Small Business Server/Gateway Server ( On Premise Server )
The Linux Small Business Server, it lets you manage all your network services through one single platform. It's a Network Gateway, as well as an Infrastructure, UTM (Unified Threat Manager), Office and Communications Server. All these features are fully integrated and easy to configure, it truly helps to save system administrators time.

Email Server
Support for Microsoft Outlook® 2007, 2010, Evolution,Eudora,Thunderbird and all other major MUAs
Native compatibility with Microsoft Active Directory
Multiple Virtual Mail Domain
Email, calendars, contacts
Customizable Webmail
Synchronization with mobile devices (ActiveSync support)
Antivirus and ant spam
Extension and MIME type Filters
Recipient Restrictions
Email Archiving ( Email Backup)
Disaster Recovery Setup
Clustering

Directory Server
Central domain directory management ( Samba 4.x) and Ldap
Users, Security Groups, Distribution Lists, Contacts
Multiple Organizational Units (OUs)
Single Sign-On (SSO) authentication
Supported OS: All Version of Windows, Linux and Others
File sharing in Windows environments (CIFS)
Users & Groups access and modification permissions (ACLs)
Advanced domain management through the RSAT tools
Printers Management
Antivirus with integrated quarantine for file server

Gateway Features
DNS Server
DHCP Server
NTP Server
Certification Authority
VPN Server & Client
Firewall:
Static and DHCP interfaces
Objects & Services
Packet Filter
Port Forwarding
Load balancing/Failover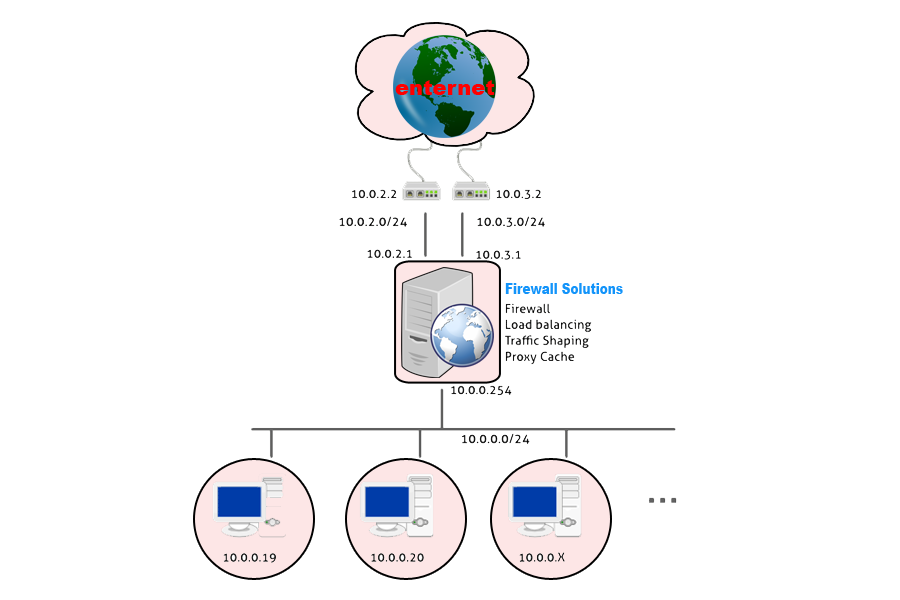 We aslo work on other opensource Firewall like pfSense and Endian Firewall

pfSense Firewall
pfSense is another Open Source and a very reliable firewall for FreeBSD servers. Its based on the concept of Stateful Packet filtering. It offers wide ranges of feature which is normally available on expensive commercial firewalls only.
Features:
1. Highly configurable and upgraded from its Web – based interface.
2. Can be deployed as a perimeter firewall, router, DHCP & DNS server.
3. Configured as wireless access point and a VPN endpoint.
4. Traffic shaping and Real Time information about the server.
5. Inbound and Outbound load balancing.
Endian firewall
Endian firewall is another Stateful packet Inspection concept based firewall which can be deployed as routers, proxy and Gateway VPN with OpenVPN.
Features of Endian
1. Bidirectional firewall
2. Snort Intrusion prevention
3. Can secure web server with HTTP &FTP proxies, antivirus and URL blacklist.
4. Can secure Mail servers with SMTP and POP3 proxies, Spam Auto-learning, Greylisting.
5. VPN with IPSec
6. Real time Network traffic logging